Rafting in Rotorua on the Kaituna River
Rafting in Rotorua on the Kaituna River – this really is the rafting thrill of a lifetime. The Kaituna River is simply awesome. It takes about 50-minutes to get down, passing through 14 phenomenal rapids including going down the spectacular seven-metre Tutea Falls.
You'll never feel so alive as you and your team drop into the mighty river below
It's All About the Experience
As well as the thrill of the rapids and waterfall, the journey is stunning too, with the natural and rugged beauty of the jungle canyon and tight and twisting turns of the river.
Rafting in Rotorua on the Kaituna River is for adrenalin junkies and thrill seekers, but no experience is necessary. So long as you're fit and love adventure, we'll look after the rest, including giving you full training.
Book today for the discounted online price of just $95.
Use Promotion Code:
RAFT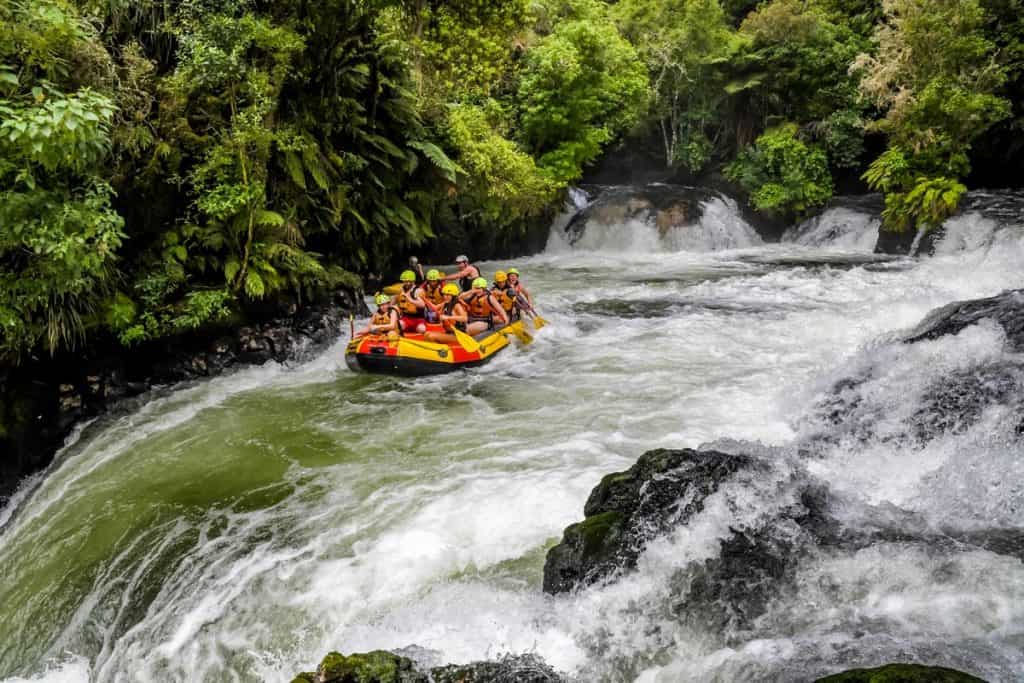 Kaituna River Rafting Guideline
We provide the raft for the adventure too, as well as the Kaituna River's best guides.
We'll even pick you up from Rotorua. Lock in the discounted price of $95 for this Kaituna River rafting experience today.
Rafting On The Kaituna River
You can raft down the Kaituna River all year round. All you need to bring is swimwear and a towel. We provide helmets, lifejackets, wetsuit booties, and paddle. We'll also provide you with other gear on colder days including a wetsuit, fleece tops, and splash jackets.
Client Reviews
My partner and I had a fantastic time. It's a lot of fun on a beautiful river with lots of rapids and waterfalls. The guides are professional and very nice. We recommend it 200% and would love to do it again! – Caroline